CRDN Electronic Restoration Services
CRDN is the leading provider of electronics testing and restoration services. Our comprehensive electronics testing process helps adjusters, contractors and policyholders to determine if devices affected by a fire or water loss can be restored to pre-loss condition.
Our restoration process effectively removes contaminants such as soot, odor and water, and we're equipped to handle claims of any size or complexity including homes, offices, retail spaces and manufacturing facilities.
Emergency Electronic Restoration Services
Searching for emergency electronic restoration or testing services? CRDN offers 24/7 emergency restoration services. Call our team immediately at 1-800-963-CRDN (2736) to get started.
What Is Considered an Electronic?
If it can be plugged in, CRDN can restore it. Our team is proud to provide electronic restoration services for everything ranging from televisions and computers to toasters and mixers. As long as your electronic item has been deemed fully functional before the loss through our electronics restoration testing process, it can be restored to pre-loss condition.
Our Electronics Restoration Services Include:
Data recovery (stored on hard drives, jump drives and data discs)
Mobile phone restoration
Tablet restoration
Computer restoration
Video game console restoration
Television (TV) restoration
Kitchen appliance restoration
Power tool restoration
Video and music disc restoration
Speaker restoration
Lamp restoration
Remote control restoration
Printer restoration
Electronic instrument restoration (keyboards, guitars, etc.)
Security system restoration
And much more!

Unsure if your electronic item can be restored? Ask our team!
Portable Testing Cart for Electronics Restoration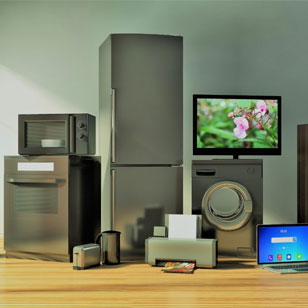 Unique to CRDN, our portable testing cart allows us to run a comprehensive evaluation of just about any electronic device, which allows us to determine whether an item can be restored to its pre-loss condition. This means we don't waste time or labor restoring items that don't work properly.
A testing report is made available to insurance companies to help them determine if non-restorable electronics should be replaced.
Our Three-Step Electronics Restoration Process
1. ELECTRONICS TESTING
First, we use our portable electronics testing cart to confirm which items are fully functional and can be restored to their pre-loss condition.
During testing, we can discover which aspects of the electronic are damaged. For example, if we're testing a computer, we will turn it on and test all ports and buttons to find out the status of the computer.
Any electronics deemed functional will be restored to pre-loss condition. For items that did not pass the testing process, we provide a detailed report to the insurance company for possible replacement.
2. RESTORATION SERVICING
Electronics affected by a loss are thoroughly decontaminated using a variety of techniques, beginning with the least aggressive and escalating to the most aggressive as required. This includes decontamination by hand, ultrasonic cleaning and the use of a deionized cleaning solution.
All exterior surfaces are cleaned and, if necessary, we will disassemble the device to clean the inside as well.
3. FINAL ELECTRONICS ASSESSMENT
Once the items have been restored, we test them one last time to ensure the item is working properly and has been restored to its pre-loss condition.
Electronic Restoration Near Me
Searching for electronics restoration services near you? Your local CRDN is ready to help. As a part of the emergency response team, CRDN works with policyholders, insurance representatives, and contractors to restore your peace of mind after a disaster.
Call our team at 1-800-963-CRDN (2736) or submit a claim today to get started.
Who We Serve
Policyholders
Agents / Adjusters
Contractors